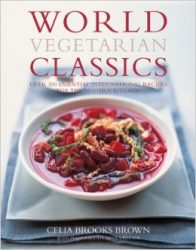 FOOD |
Take your taste buds on a trip around the world with these international recipes adapted to the modern cook. With over 220 recipes, this delightful book takes you around the world without you having to leave the house – oh except to get the ingredients!
Tantalizing recipes with ingredients within reach, you will travel from North America to Southeast Asia and marvel in the flavours that are being created from your kitchen.
A must for any home, Planted Life highly recommends this cookbook.