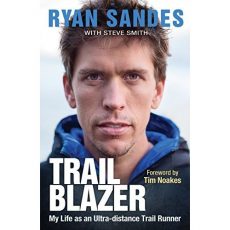 BODY |
There must be something in the South African waters because the caliber of ultra runners that rise from this country is nothing short of phenomenal. Ryan Sandes is no exception.
Eagerly awaiting the release of this book in Australia, the moment I could order a copy I did. This book was far from an endurance read, unlike the content I am not sure if it was the style of writing, the topic or my eagerness but this book was read in record speed. I was a little sad when I read the last page even happy to read the Acknowledgements at the end.
I was fascinated to enter into the mind of Ryan Sandes, to understand further how his mind works and what thoughts occupy his mind when he runs not only ultra marathons but multi-day events. Ryan's outlook on the appreciation of life, his ability and the natural environment in which he runs is infectious.  He runs because he can and because he generally thrives off this form of human power.
The sport of ultra endurance running was found by chance but true to his passion Ryan has made his humble sport his life and how lucky are we to have the opportunity to read in book form his career to date. I with enthusiasm and admiration continue to follow Ryan's career and hope to oneway follow his footsteps on some of the course such as UTMB and Western States.
For anyone passionate about ultra running, this  read comes highly recommended.
Purchase Now
To purchase your copy of this book that further takes you into the journey of an ultra endurance runner, we encourage you to click here