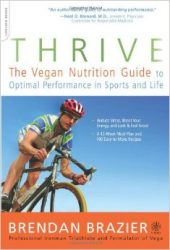 FOOD |
Its not often you read about athletes who are professional Ironman triathletes fuelled on plant based nutrition alone, well that is until now.  Brendan Brazier is such an athlete and one who we inspired and motivated by each time we hit the tarmac.
This book is exactly what it says it is 'The Vegan Nutrition Guide to Optimum Performance in Sports and Life'. Thrive isn't a traditional diet book telling us to eliminate specific foods, its about incorporating the Thrive Diet foods into your existing diet eventually having you lose interest in processed foods.  Its about listening to what your body needs and understanding that wholefoods and more plant based diets should play a key role in lifestyle food choices.
Thrive is broken down into various chapters from what you can expect from the Thrive diet, what are the health benefits, foods for fuel, core foods in diet and most importantly a 12 week meal plan and recipes.  This book should be used as a guide to living a more fulfilling life through food & exercise.
As Brendan states 'no step is too small; each aspect of the diet that you embrace will directly translate into meaningful results. Start slow and build.'
To learn more about the author Brendan Brazier and Thrive visit www.brendanbrazier.com