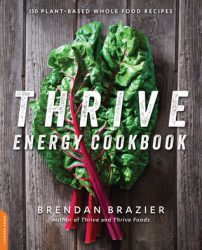 FOOD |
"My Thrive Journey: purpose-driven, clean, plant-based nutrition" Brendan Brazier
My journey towards a 100% plant based diet started long before I even knew who Brendan Brazier was.  Brendan is a former pro ironman, vega formulator, best selling author, speaker and vegan. A powerhouse in all things plant based his approach to clean plant-based nutrition is simple – choose natural, unrefined whole foods.
This cookbook has pride of place in our kitchen and is often referred too not only for its recipes but its wealth of information on what should be stocked in your 'Thrive Energy Pantry".
Another highly recommended cookbook for anyone looking to add more Planted meals into their daily diet.
To read more about Brendan Brazier and Thrive visit www.brendanbrazier.com and www.thriveforward.com