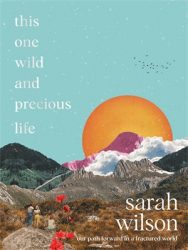 MIND |
The older I am getting the more I am understanding how to dissect titles of book to really analyse what they are all about and how they might be of relevance to me. What caught my eye apart from the artwork; the words 'One Wild' and 'Precious Life'. In my mid forties I understand both sentiments; live wild whilst appreciating how precious this life is in which we live and breath.
Sarah Wilson is a female adventurer after my own heart; she's lived out of one suit case for 8 years, she hears and feels the energy from nature and she is both a pessimist and optimist. There is hope and we need to always below that despite our thinking, one person can make a difference because that one person at the end of the day is actually many – we just haven't all connected yet.
This one wild and precious life opens our eyes to how we got to where we are now and shows us the hopeful path forward drawing on science, literature, philosophy, the wisdom of some of the world's leading experts including her own personal journey.  We are encouraged to challenge ourselves through a series of wild practices for reconnecting which include:
Do what scares you and embrace discomfort daily
Break the cycle of mindless consumption and get light with your life
Embrace poetry, deep reading, art, and classical music to light up your intellect
Get spiritual with a daily active practice
Walk in nature to reconnect with ourselves, and with our true purpose
Practise wild activism to create our better world
About Sarah Wilson
Author of the New York Times bestsellers first, we make the beast beautiful: a new story about anxiety and I Quit Sugar, along with eleven cookbooks. Previously, editor of Cosmopolitan Australia, host of MasterChef Australia and founder of iquitsugar.com, an 8-week program that has seen millions worldwide break their sugar addiction.
To read more about Sarah Wilson and her journey click here.
Purchase Now
To purchase your copy of this widely touching and thought provoking book, we encourage you to click here