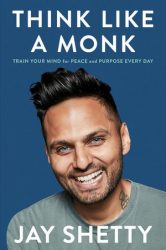 MIND |
Think Like a Monk – Train your mind for PEACE and PURPOSE every day.
Why this book? When I entered the bookstore and wandered over to the self development section (I find myself here a lot) and this was the first book my eyes rested on. I had only been talking about Jay with a friend days prior as his name came into conversation as she mentioned his Podcast chat with Rich Roll titled 'Journey Inward' and Jay's unusual life's journey and the remarkable path that he's paved for himself. For some reason I had missed this worthy listen and when I saw the book on the shelf, I saw this as a sign as the next Planted Life Book Club read.
As I walked over to the counter to purchase, I read the back of the book:
How to find your purpose
How to overcome negativity
How to stop overthinking
Why comparison kills love
How to use your fear
Why you can't find happiness by looking for it
How to learn from everyone you meet
Why you are not your thoughts
Why kindness is crucial to success
Yeah this all resonated with me which I found comforting and a little scary. Comforting because I am not the only one whose mind heads in a direction that is less than welcoming at times and scary because the mind is just so predictable. I am not looking for answers to all my questions when I purchase books such as this, I am more just looking for reassurance that with the right guidance from others I can help create new habits and practices through their wisdom and learnings to help create a more enlightened life.
Here's to opening my mind, lifting my heart and connecting with my deeper purpose.
About Jay Shetty
Bestselling author. Podcast host. Former Monk. Purpose Coach. To read more about Jay Shetty and his store click here.
Purchase Now
To purchase your copy of this mindful and thought provoking book, we encourage you to click here