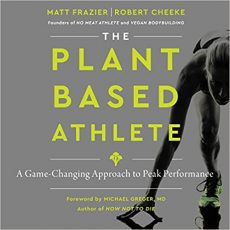 FOOD | BODY |
The Plant Based Athlete – A game-changing approach to peak performance.
This book deserves all the hype it is currently receiving, why? Because Planters need all the support that they can get to show that the human body doesn't need meat, eggs, or dairy to be strong.
The Plant-Based Athlete book shows how a consciously calibrated plant-based diet is the secret to attaining physical goals you might have once thought were out of reach. Here are just a few athletes who have discovered the power of plants:
Alex Morgan who catapulted the US women's soccer team to a World Cup championship, credited a plant-based diet for her strength and endurance.
Novak Djokovic the world's number-one ranked men's tennis player, praised his plant-based diet which boosted his energy, stamina, and overall performance.
Venus Williams who turned to plant-based eating to alleviate a chronic condition, and in less than a year went from pain to winning a Wimbledon title and an Olympic Gold Medal, and reclaimed her #1 world ranking.
You yourself is proof enough (#betheproof) that a plant-based diet offers athletes and non-athletes alike the greatest possible recovery times, injury prevention, restorative sleep and allows you to train effectively and tread freely throughout your day with better more energised results and movement.
This book is another game-changer when it comes to changing perceptions regarding living a Planted Life; we are 100% behind the words written on these pages and can't wait to sink our teeth into the stories and inspiration shared.
About the Authors
Matt Frazier is a vegan ultramarathoner, founder of the No Meat Athlete movement, and author of No Meat Athlete.
Robert Cheeke is an bodybuilder, motivation speak, founder, Vegan Bodybuilder and overall plant-based powerhouse.
Purchase Now
To purchase your copy of this inspirational and educational book, we encourage you to click here