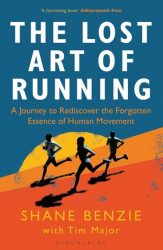 BODY |
The Lost Art of Running – A journey to rediscover the forgotten essence of human movement
Do you love running but sometimes lose focus as to why you love it so much? This book is the reminder that you need to fall back in love with the running movement and why the freedom of putting one foot in front of the other should be etched in your life's practice.
The Lost Art of Running is an opportunity to be transported around the world with running technique analyst coach and movement guru Shane Benzie as he journies across five continents as he trains with and analyses the running style of some of the most gifted athletes on the planet. Your imagination will go wild as you envisage the beauty of the gifted.
Part narrative, part practical, this adventure takes you to the foothills of Ethiopia and the 'town of runners'; to the training grounds of world record holding marathon runners in Kenya; racing across the Arctic Circle and the mountains of Europe, through the sweltering sands of the Sahara and the hostility of a winter traverse of the Pennine Way, to witness the incredible natural movement of runners in these environments.
Along the way, you will learn how to incorporate natural movement techniques into your own running and hear from some of the top athletes that Shane has coached over the years. Whether experienced or just tackling your first few miles, this ground-breaking book will help you discover the lost art of running.
About Shane Benzie
Shane Benzie is a running coach, movement specialist, researcher and the founder of the Running Reborn coaching platform. He has worked with runners all over the world to help them harness their elasticity and improvement their movement.
To learn more about the philosophy of Shane's coaching visit the Running Reborn coaching website here.
Purchase Now
To purchase your body of this essential running book, we encourage you to click here