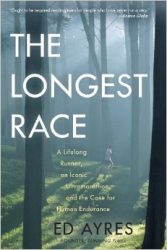 BODY |
A lifelong runner, an iconic ultra marathon and the case of human endurance.
"Ed Ayres is a legend who shares his many provocative insights and lessons in an informative yet enjoyable way. A true champion,  Ed uses his gift to help us all be the best that we can be." – Dean Karnazes, Athlete and New York Times-bestselling author of Ultramarathon Man
This book  begins in 2001, at the starting line of the JFK 50 Mile, the nation's oldest ultra marathon. Taking us on a journey of strength and vitality exploring the larger life issues such as why we run, our impact on the environment and the effects of the nations declining physical fitness.
To read more about Ed Ayres visit here.