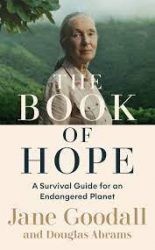 MIND |
The Book of Hope – A Survival Guide for an Endangered Planet
A read anyone who has an interest in the environment, wildlife and the science of nature should have either by their bedside table or available to read more than once or have someone borrow from their bookshelf.
This book is a reflection of a life well lived from an extraordinary individual who has dedicated a lifetime to nature and helps teach us how to find strength in the face of the climate crisis, and explains why she still has hope for the natural world and for humanity.
This profound book from a legendary figure in the fight against climate change shows that even in the face of great adversity, we can find hope in human nature, and in nature itself. Without action. We have no hope.
About Jane Goodall
A scientist, conservationist, peacemaker and mentor; not a bad resume for someone who has nearly 60 years of groundbreaking work
To learn more about the history and work of Jane Goodall visit her website here.
Purchase Now
To purchase your own copy of this must have survival guide for an endangered planet, we encourage you to click here