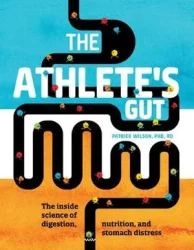 BODY |
The Athlete's Gut – The inside science of digestion, nutrition and stomach distress
It seems once we leave school we fail to learn or appreciate further knowledge when it comes to understanding how our bodies work. We learn more about how to execute a successful tik tok video than we do learning how to limit gut distress especially those of us who partake in athletic endeavours such as ultra endurance running, cycling or multi-sport events.
The Athlete's Gut is an easy to read reference book to help you understand how to limit cramps, side stitches and nausea caused by an unhappy gastrointestinal tract when navigating your way through the world of nutrition and sport.  This book covers insights such as:
How appropriate diet, hydration and stress management reduce the risk of issues like bloating and nausea
Why ultra runners and sprinters are susceptible to vomiting, but for different reasons
How this 'second brain' communicates with the rest of your nervous system
Why overloading the gut with gels and sports drinks can cause gut woes
The focus is on smart eating to breathing to help you take care of your digestive system which is fundamental to helping you achieve your highest athletic goals.
A must have for any Planted Runner to use as a tool to support training and racing.
About Patrick Wilson, PHD, RD
Patrick Wilson is an assistant professor of exercise science at Old Dominion University, specialising in the relationship between gastrointestinal issues, diet, nutrition and exercise. He is also the director of the ODU Human Performance Lab, a fitness-testing and exercise-science research facility.
Purchase Now
To purchase your copy of this essential gut health book we encourage you to click here.