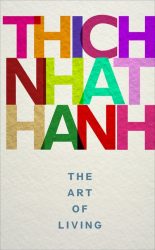 MIND |
"If we continue to hold on to a dream for something in the future, we lose the present moment. And if we lose the present moment, we lose everything".
As we work our way through life, sometimes asking more questions than we get answers too, Thich Nhat Hanh helps answer some of life's deepest questions revealing new ways to experience happiness and freedom simply by appreciating the present moment. A book that reminds you of the importance of living a more peaceful and active life and has us not scared of dying but facing this moment with curiosity and joy.
Indeed a book that is timeless and inspiring with statements and phrases staying with you long after you finish all the pages.
To learn more about this spiritual leader and the art of living visit: Thich Nhat Hanh
Purchase Now
To purchase your copy of this book that will have you more conscious of the present moment, then we encourage you to click here