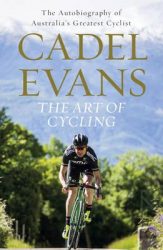 BODY |
"After all I've learnt and refined over all my years as an athlete, suddenly I'm having to relearn everything, because suddenly everything has changed." – Cadel Evans
The bike. The rider. The father. The ordinary guy. The Art of Cycling is more than just a book about various tours, teams and training, its an insight into the daily life of a professional cyclist, the realisation that you're only as good as your last race and chasing the feeling of freedom both on and off the bike.
There was so much to learn in this book, there was so much I didn't know. I grew up with Cadel Evans being a household name, I  watched him race on TV, You Tube and read articles about team changes, living overseas, the adoption of his son Robel and like every other cycling enthusiast and Australian I watched the famous Tour win of 2011 but it was only until I read this book did I truly have a greater insight into who Cadel Evans is and what his career really entailed.
Cadel is a humble man, a phenomenal cyclist and a guy who understands what makes him tick. He found reason for being. This book has got me thinking way beyond the last turn of the page. This was not my story but Cadel's words resonated with me and I find myself referencing in conversation some of his stories and experiences. When a book you read has you doing that, you know you just read something special.
To read more about the professional career and life of Cadel Evans visit: www.cadelevans.com.au 
Purchase Now
To purchase your copy of this book for anyone who has every had a dream, we encourage you to click here