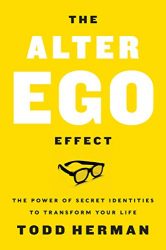 MIND |
Do you believe that by simply changing something up about yourself both on the outside and inside you can change how you view yourself and become more confident around others?
The Alter Ego Effect is a book sharing the secret identities adopted by Olympic and professional athletes, world-class entertainers, and entrepreneurs to achieve their most ambitious goals.
Todd Herman shares how people have been using Alter Egos for decades and why drawing on an Alter Ego isn't about 'faking it until you make it', but rather bringing out the "real you" so you can conquer any challenge life throws at you.
A fascinating book that gives you the tricks of the trade but also has you digging deep about how you think you really are and how drawing on your strength of character can change the outcome of business presentation or even a race.
Interested to know more about the man behind the glasses? The man who believes the secret to success is creating an Alter Ego, one that makes you feel more powerful, confident and one that gives you the opportunity seek your true potential? Read more about Todd Herman here.
Love Podcasts? Listen to Todd Herman speak with Rich Roll on the Rich Roll Podcast
Purchase Now
To purchase your copy of this book that has your rethinking your 'ego' we encourage you to click here