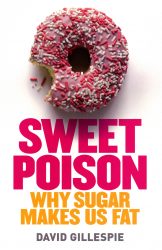 FOOD |
"What's impressive about Sweet Poison is that Gillespie turns complex research on what happens to food inside our body and its relation to weight gain into a good read" Sydney Morning Herald
We are all aware of the dangers of alcohol and smoking but what would you think if we were to say sugar was just as destructive and addictive, would you believe us? A diet high in sugar can lead to all sorts of health implications; type II diabetes, gout, heart disease, obesity, depression and erectile dysfunction to name just a few. Sweet Poison is a book that states in simple terms what the manufactures don't tell you, sugar IS addictive and its almost in everything you buy and therefore eat.
We have long heard about this book and about David Gillespie, so when we had the opportunity to hear him speak and to purchase the book from the man himself, we jumped at the chance.
This is a must read for anyone who cares about their health and the health of their family. It doesn't take much to change the way we eat, we just need to stop buying into the foods that fill our supermarket shelves.
To learn more about why sugar is making us fat visit www.howmuchsugar.com