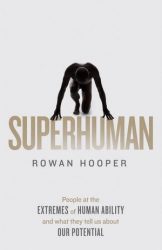 BODY |
Superhuman – People At The Extremes Of Mental And Physical Ability – And What They Tell Us About Our Potential
This is a book for both the BODY and MIND for it looks at examples of the mental and physical abilities of various individuals who have us looking inwards to our own potentials to remind us that we are all capable of something. This book looks at exceptional people and dives deep into their stories such as Petra Kasperova, a runner who connected with the Sri Chinmoy practice which instantly changed her life. She describes her feelings after completing a race 'as lighter…she becomes a different person, that her nature has changed, in a positive way and that she has experienced a beautiful form of happiness'. Yes we want to read more of this please.
This book also asks a lot of questions:
Why can some people achieve greatness when others can't, no matter how hard they try?
What are the secrets of long life and happiness?
Just how much potential does our species have?
A fascinating read about THINKING | DOING | BEING and one book that has stayed with us long after we turned the last page and read the last word.
To learn more about the author, Rowan Hooper click here.
Purchase Now
To purchase your copy of this inspirational and educational book, we encourage you to click here