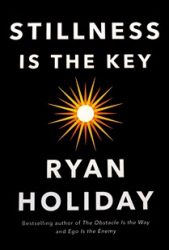 MIND |
Stillness is crucial to your success in this noisy world; we need stillness to feed our ambition and to help us find greater happiness, peace and self-direction. Do you give yourself the required space and time for stillness or are you too busy?
Drawing on the timeless Stoic and Buddhist philosophy, Stillness is the Key shows us why slowing down is the secret weapon for those charging ahead. In this book, Ryan Holiday outlines a path for achieving this ancient, but necessary way of living. Drawing on a wide range of history's greatest thinkers, from Confucius to Seneca, Marcus Aurelius to Thich Nhat Hanh, John Stuart Mill to Nietzsche, stillness is the doorway to self-mastery, discipline, and focus.
We are overwhelmed but we are not defeated; we can all benefit from finding some stillness in our days to help us cope and conquer life obstacles. Daily, practice to empty your mind, to slow down the thoughts and think to yourself:
Thank about what's important to you
Think about what's actually going on
Think about what might be hidden from view
Think about what the rest of the chessboard looks like
Think about what the meaning of life really is.
To read more about the author, Ryan Holiday and this array of books click here
Purchase Now
To purchase your copy of this inspirational book, we encourage you to click here