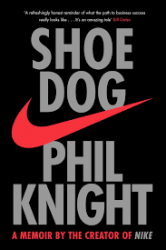 MIND |
Shoe Dog: A Memoir by the Creator of NIKE
If you decide to pick up this book because you are looking for guidance or a lesson in starting and running a business then this book may disappoint. I don't think Knight sets out to teach the reader anything. There are no tips or checklists. Instead, Knight tells his story as honestly as he can. It's an amazing tale. It's real. And its one book that you might struggle to put down once you start.
A compelling story about the start up of one of the most recognisable logo's and businesses in the world. Reading this book gave me a new appreciation for the brand that seems to feature one way or another in almost every sport.  I love that Nike still lives by this phrase "it's never just business. It never will be. If it ever does become business, that will mean that business is very bad".
You don't need to be a runner to be inspired by the Nike story.  To purchase your copy visit Booktopia and to read more about Nike as a business visit here. Just do it.