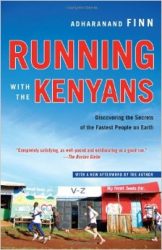 BODY |
Have you ever wanted to discover the secrets of the fastest people on earth? Adharanana Finn explores the elite training camps of Kenya to uncover those secrets.
From barefoot running to practical advice on running, Running with the Kenyans teaches us how to run and tells a tale of what it is to go stride for stride with the fastest people on earth.
A book of self discovery, invaluable lessons about running and life and the joy of movement.
A highly recommended read for anyone starting out running. To read more about this book and the author visit: twitter.com/adharanand
Purchase Now
To purchase your copy of this book, we encourage you to click here