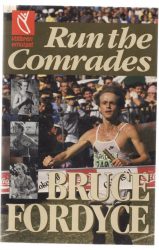 BODY |
"In order to give yourself the best possible chance of preparing well for the Comrades, or any ultra distance race, you are going to have to ensure that your surrounding environment is as encouraging and supportive as possible." – Bruce Fordyce
To achieve a goal, in particular a running goal it requires structure, sacrifice, confidence, self belief, flexibility and caution. This is in addition to the training which includes running (that's the obvious one), strength training and stretching.
The Comrades Marathon is an ultramarathon of approximately 89 km which is run annually in the KwaZulu-Natal Province of South Africa between the cities of Durban and Pietermaritzburg. It is the world's largest and oldest ultramarathon race and each year is run in one of two directions; up or down, both equally as challenging as one another.
Bruce Fordyce wrote Run the Comrades to detail his account of how he prepared himself for this race and as he says "there is no secret formula or magic trick. Hard work is the key – but hard work based on common sense, a great deal of caution, and a lot of fun." 
You don't need to run Comrades to get something out of this book. Any person who enjoys the challenge of running will learn something from the words and knowledge shared in this handbook which includes how to train, race and rest, the ideal pre-race diet and how to fuel on the run.  What we love about this race is its history and without doubt, the comradery of such an ultra endurance running race.
To read more about this race visit Comrades and to learn more about Bruce Fordyce and his experience with this historic race visit his home page here.