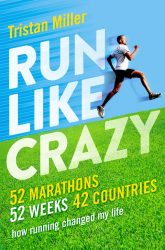 BODY |
52 marathons in 52 weeks across 42 countries, I think its safe to say that running in all those countries in 1 year would change your life, how could it not? We all have a choice and Tristan Miller's choice was to take control of his own future, risk everything and run around the world – how many people have the balls to do that?
We have nothing but admiration for this journey, we love running and often we think we would like to chuck everything in and run but for the moment we are content with running 6 days a week, up to 90km in and around Melbourne.
What we loved about this book was Tristan's honestly, his ability to write as if he were talking directly to us about what was going on around him and what he was feeling. I almost felt the blisters, the aches and pains, the relief and the emotion of achieving a personal best on more than one marathon.
This book is about personal challenges and reminding us, that when we set our minds to it – we can do almost anything. www.runlikecrazy.com