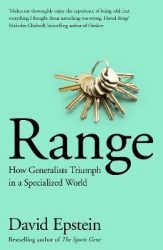 MIND |
How generalist triumph in a specialised world.
We are all familiar with the saying "Jack of all trades, master of none" a figure of speech used in reference to a person who has dabbled in many skills, rather than gaining expertise by focusing on one. However what if this figure of speech doesn't apply to some of the most successful people, including sports people?
Range is a book that delves into the history, mindset and results of athletes, artists, musicians, inventors and scientists who as it turns out are generalists (a "Jack") not specialists ("a master") citing that it is their RANGE that has created their path for success.
A fascinating insight into the advantages of arming yourself with a skill set from a young age that will have you more rounded when it comes to the time when you settle down in your craft.  Success comes from the expansion of your range which has us rethink how we go about reaching our perceived end goal.
A highly recommend read for your Planted bookshelf for anyone that has struggled to find the path to success and in the words of Ralph Waldo Emerson "Do not go where the path may lead, go instead where there is no path and leave a trail."
To read more about the author, David Epstein click here.
Purchase Now
To purchase your copy of this book, we encourage you to click here