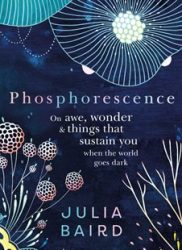 MIND |
Book Club – #1
Phosphorescence; On awe, wonder & things that sustain you when the world goes dark.
A book of two halves as they say; the beginning few chapters takes you into a beautiful, intimate and inspiring world where we explore nurture and nature not only of the world around us but within ourselves and the essential quality of internal happiness – the 'light within' the 'phosphorescence' – which will sustain us even through the darkest times.
Nature is described as 'the dawn is an arsonist who pours petrol along the horizon, throws a match on it and watches it burn'. Oh these words stole my heart and ran away with it…thank you ??
This book was the first read in a virtual book club; 2 weeks to read before sitting down and discussing. Lets just say, this book was read in less than a week and a half. Its an easy read, not because of its size but because of the use of words that draw you in and just make you want to stay in this world; a world of light and darkness but more light.
The second half of this book is deeply personal; a biography where we understand the struggle of illness, keeping it together in troubled times but also looking, seeing and listening for the light – its not far away when we understand how to tap into it.
It's an honest read, a read that makes you want to learn, it takes you on a journey of happiness, relationships, friendships and the importance of having an animal in our lives. Its offers us light when our world goes dark, when we're overwhelmed by illness or heartbreak, loss or pain and teaches us how to survive, stay alive and bloom.
Highly recommended.
To read about the author, click here.
Purchase Now
To purchase your copy of this naturalist loving book, we encourage you to click here