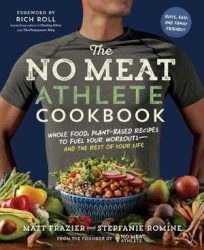 FOOD |
Whole food, plant-based  recipes to fuel both vegans and non-vegans alike.
There are a small few of us require reassurance that a plant-based diet and fitness go hand in hand; that being fuelled prominently by plants will tick all the boxes when it comes to nutrition, energy and recovery; not to mention an adequate intake of protein. This book isn't just for athletes; its for anyone who wishes better fuel their day to day activities with whole plant-based foods.
This is a one stop shop cookbook which focuses on:
Whole foods, with minimal gluten, soy, and sweeteners-plus oil-free options for every recipe
Time-saving tips, plus step-by-step guides on prepping ahead
Recipes include practical, no-mess, one-dish dinners; homemade sports drinks; energy bars; spice blends; easy, fermented vegetables (that are good for digestion!)
"Fast food" and "slow food" tips for those short on time and for cooking from scratch
Meal plans for training weeks + post-race feast ideas.
The No Meat Athlete started out as a blog and has grown as much as the vegan movement over the past few years. A creditable and worthy book for your bookshelf.
About the Authors
Matt Frazier is a vegan ultramarathoner, founder of the No Meat Athlete movement, and author of No Meat Athlete.
Stepfanie Romine is a journalist turned plant-based recipe developer, health coach, and yoga teacher who writes about natural health and wellness.
Purchase Now
To purchase your copy of this inspirational and educational book, we encourage you to click here