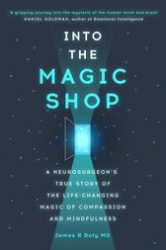 MIND |
There was something about this book that intrigued me; I'm not sure if it was the title or the design of the cover but from the moment I saw this book posted on a friends social media page; I had a calling towards it. It called me. Thankfully I listened.
Into the Magic Shop is a neurosurgeon's true story of the life changing magic of compassion and mindfulness. It's the story of a 12 year old who walked into his local magic shop and from that day, his life was changed forever. This change was due to a chance meeting with a remarkable women, Ruth who devoted her summer to transforming James mind and opening his heart.
This is an uplifting memoir which describes the visualisation techniques Ruth taught James that gave him the self-esteem to imagine a new future for himself. This book examines the science behind mindfulness and why the skills James learnt help him to think fast and keep calm in both operating theatre and life.
Into the Magic Shop reveals some powerful life lessons about how to live better, and inspires us to believe that we all have inside us the capacity to change our own destiny, we just need to recognise and believe.
To read more about this life-changing book click here
Purchase Now
To purchase your copy of this magical book/read, we encourage you to click here