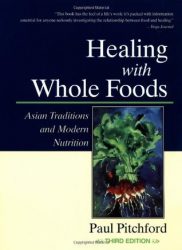 FOOD |
If nutrition were a religion, then this book would be its bible. I came across this book when I was working in Sydney at a Wholefoods store (Wholefoods House), it only seemed fitting that this book was kept at the counter as a reference, after all, it seems to have all the answers.
If you are looking for a book that helps you plan and prepare for the optimal diet, then you can't go past Healing with Wholefoods. It has detailed chapters on nutrition basics, Chinese healing, changes to ones diet from animal products to whole grains and vegetables, sections on weight loss and diets and treatments for cancer, arthritis, mental illness to name just a few.
If you are serious about improving health and longevity, then this book certainly must take pride of place in your bookshelf.