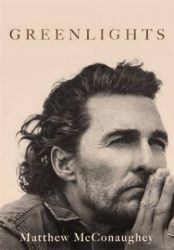 MIND |
Did I think I would ever be rushing to the bookstore to purchase a copy of a book written by an American actor about his life, his learnings and how they may help me look at my life? Hmm no, but then again why not?
I'm intrigued by this book, by Matthew's stories and experiences but most of all I am intrigued by his words, his musings and his conversation about life. This book is noted as 'A love letter. To life.'
It's also a guide to catching more greenlights; that the yellows and reds eventually turn green too. I get it, thoughout life we choose when our experiences are given the greenlights, sure some changes are easier than others but in essence, we are the controller of our decisions and pathways in which we walk, this book I know will be thought provoking.
My teaser before the Planted Team read book was listening to the Rich Roll Podcast, Episode #555 with Matthew; no spoilers just a verbal conversation that got us even more excited to start reading our way through this book.
There's lots of publicity around the launch of this book and we feel its 100% worthy of all the hype. Another must for your Planted Bookshelf.
To read more about Greenlights and Matthew McConaughey visit his Instagram page here.
Purchase Now
To purchase your copy of this book about love and life, we encourage you to click here