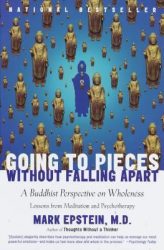 MIND |
Do you ever feel like you are falling apart? The title of this book gave me a glimmer of hope, can I really go to pieces without falling apart? A Buddhist perspective on wholeness describing how psychotherapy and meditation can help us manage our most powerful emotions – and make us feel more alive and whole in the process.
This isn't a self help book but more a selfless book reminding us that happiness depends on our ability to balance the ego's need to do with our inherent capacity to be. We don't always need to be in control and things do not need to be perfect for us to be okay.  Events may not go to plan but it does not mean we need to fall apart in the process; this book gives real life examples and cues to protect us from falling apart, allowing us to remove ourselves from our self imprisonment to feel more free and calm.
This book has reminded me once again how far I have come with my mediation and shown through examples the benefits this daily practice has on my mental state. A worthy read for your Planted Life.
To read more about the author; Mark Epstein, M.D. click here
Purchase Now
To purchase your copy of this book that gives you more than a glimmer of hope, we encourage you to click here