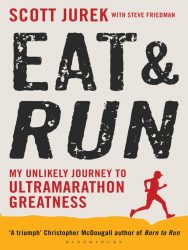 BODY |
Eat & Run. This title pretty much sums up what we love the most in life. If there was ever a book to read during marathon training then this book is it. Reading some of the runs Scott sets out to do in a day (or more) makes 42.195km seem like a training run. The thing about running is, if you can think it and set your mind to it, you can do it.
Scott Jurek has long been on our radar. We first read about him in Born to Run and read with keen interest his energy and will to run and be a dominant force in the gruelling sport of ultrarunning. Eat & Run is more than a book about running, Scott invites us into his life, his family, career and how a vegan diet is fundamental to his success in a sport that most people couldn't even think of attempting.
We read with interest the challenges, the injuries and the triumph which saw Scott win more than one ultra marathon and write (or run) his name into the history books. We also had our stomach rumbling when reading the recipes which are tried and tested in Scott's kitchen to nourish & fuel his body.
We highly recommend this book and although you may not be able to contemplate circling/running around a 1.40km course for 24 hours, the words, the stories and the enthusiasm to this sport will have you excited about running around the block more than once. One of our top picks.
To read more about Scott Jurek visit www.scottjurek.com