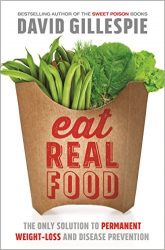 FOOD |
"Real food is also still available in the average supermarket; you just have to walk past a lot of food-like-substances to get to it" David Gillespie.
This is the reality of our supermarket shelves, a lot of food like products ladened with sugar and fat, and no we are not talking about the good fat either.
In the last 100 years, we've become fatter and sicker with millions of people developing serious diseases from diabetes to cancer. Health gurus confuse us with complex diets and expensive ingredients; food manufacturers load their products with addictive and destructive ingredients causing our increasing weight and declining health.
Health and consumer advocate David Gillespie shares the simple secret of weight loss and wellbeing: swap processed food for REAL FOOD in this must read book for anyone who cares about their health and the health of their family.
To read more about David Gillespie and his books visit www.davidgillespie.org