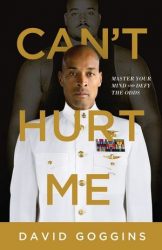 BODY |
How do you begin to callous the mind? For starters, you start and finish this book. As the enthusiast of such a read you take a solo mission to free your mind of the victims mentality and develop ownership of every aspect of you life. You do this by building and hardening the foundations; by callousing the mind.
Not only is this book an insight in the childhood, adolescence and adulthood of David Goggins from home to work life but it is a guide to support you to adopt some of the challenges that help toughen you up, that help push you beyond your perceived capabilities and aid you to be uncommon amongst uncommon people.
Challenges and rules are noted throughout the book to assist you in your daily life goals:
Inventory of Excuses
Accountability Mirror
Step Outside your Comfort Zone
Taking Souls
Visualise your Goals
The Cookie Jar
Remove the Governor
Scheduling
After Action Reports
Confused about what the above means? Then I encourage you to purchase a copy of this book then embrace and adopt the David Goggins thought process. It will change the way you think and operate on all levels of your life. However all the challenges come from a dark place, a place where you would not choose to come from but what it proves it is, no matter your up bringing or perceived challenges, you can push through the nightmare and handle anything if you let your mind keep up.
Note: I'm a touchy feely type of reader; I like to feel and smell the pages of my books however it has been recommended as well as reading in paperback that you also listen to it in audio. Listen here: Audible – Can't Hurt Me 
To read more about David Goggins; click here.
Purchase Now
To purchase your copy of this confronting yet strangely motivating book, we encourage you to click here