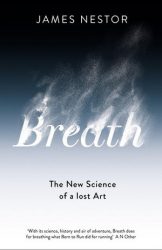 BODY |
Breath – The New Science of a Lost Art
Would you consider going to bed with your mouth taped shut in order to sleep better, breath better? Do you know the hidden science behind ancient breathing practises like Pranayama, Sudarshan Kriya and Tummo? Do you even consider how you breath on a daily basis and how you breath might just prolong your life?
Breath is simply a book about breathing properly and how the art of breathing in (good energy) and breathing out (negative energy) can transform your physical and mental health. The art of breathing is on repeat approximately twenty-five thousand times a day yet for something so substantial in our life, we seem to have forgotten the importance of this and almost take for granted the ability to breathe correctly.
Modern research is showing us that making even slight adjustments to the way we inhale and exhale can;
Jump-start athletic performance
Rejuvenate internal organs
Stop snoring
Reduce asthma symptoms
Halt autoimmune disease
One of the many things all species have in common is our ability to breathe however there are some of us who are not breathing properly. You don't want to be one of them. This is an important read to anyone who values health and the importance of each breath.
About James Nestor
James Nestor is a journalist who has written for Outside magazine, Men's Journal, Scientific American, Dwell, National Public Radio, The New York Times, The Atlantic, the San Francisco Chronicle magazine, and more. To read more about James Nestor visit: mrjamesnestor
Purchase Now
To purchase your copy of this essential life book, we encourage you to click here