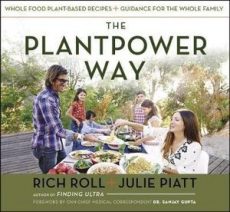 FOOD |
Could we fan girl over two more inspirational individuals?  The Plantpower Way is created by renowned vegan ultra-distance athlete and high-profile wellness advocate Rich Roll and his chef wife Julie Piatt.
The Plantpower Way is more than your average cookbook; it shares the joy and vibrant health Rich, Julie and their whole family have experienced living a plant-based lifestyle. This coffee style lifestyle cookbook is bursting with inspiration, practical guidance, and stunning photography, The Plantpower Way has more than 120 delicious, easy-to-prepare whole food recipes, including hearty breakfasts, lunches, and dinners, plus healthful and delicious smoothies and juices, and decadent desserts.
We describe this cookbook as a lifestyle cookbook because it identifies the tools required to live a Planted Life of long-term wellness of vibrant body, mind, and spirit health.
Purchase Now
To purchase your copy of this stunning and equally delicious cookbook, we invite you to click here