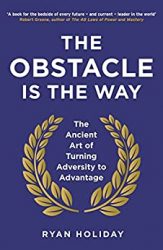 MIND |
There is no time like the present (April 2020) to read such a book; this book reveals a formula as to how we can turn our own adversity into an advantage and where our life's obstacles can be turned into a lifetime opportunity. The Obstacle is the Way shows us that what blocks our path actually opens up to one that is new and better.
Drawing on the philosophy of the Stoics, a philosophy that flourished for some 400 years in Ancient Greece and Rome they had one overwhelming and highly practical ambition: to teach people how to be calm and brave in the face of overwhelming anxiety and pain. Of all philosophies, Stoicism remains perhaps the most immediately relevant and useful for our uncertain and panicky times.
We give up too easily, if the competition threatens you, it's time to be fearless, to display your courage. Another way to look at this philosophy is; if what you are doing is generating controversy – it's also potentially generating publicity. The Stoic philosophy – that what is in the way, is the way – can be applied to any problem.
To strive, to seek, to find….working at it works. It's that simple. A must read for these troubling times.
To read more about the author, Ryan Holiday and this array of books click here
Purchase Now
To purchase your copy to build your Ryan Holiday collection, we encourage you to click here