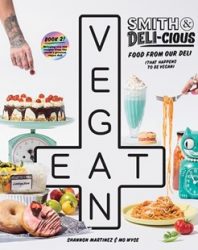 FOOD |
From the masterminds who brought us the innovative restaurant; Smith & Daughters chef Shannon and her business partner Mo have now given the Melbourne community & beyond the opportunity to EAT VEGAN more often with the opening of their latest venture, Smith & Deli. However with the demand beyond an operating restaurant & deli they have made their way into our kitchens with must have cookbooks and this one is no exception; Smith & Deli-cious.
A DELIcious gem that has you creating and craving dishes such as mac and cheese, spanakopita, mince pies, chocolate brownies and doughnuts. For anyone confused about what a vegan eats and wants to learn from the experts without having to have a Michelin Hat to do so, then this IS the cookbook for you.
If you only have one cookbook in your collection, then we highly recommend this one. A rating of 10/10 from us ? ⭐️ ?
Purchase Now
To purchase your copy of this recipe book that will have you be as creative as the team in Fitzroy, we 100% encourage you to click here