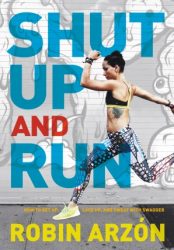 BODY |
"Always fierce and fashion forward, Robin Arzon is synonymous with sweat and swagger, plying infectious enthusiasm to inspire everyone who crosses her path to get off the couch and do epic sh*t. Inclusive, highly relatable, and downright fun, it's the running primer we've all been waiting for." – Rich Roll, bestselling author of Finding Ultra
You can't help but be motivated and inspired by the enthusiasm of Robin and you don't even need to read her book to feel like this, just follow her on social media and the pictures speak a thousand words.
Running is not complicated, its an inclusive sport that starts with lacing up and putting one foot forward – easy. We don't have to run a marathon every time we step outside to run but we do need to smile, laugh and enjoy the moment. And most importantly we need to stop the excuses, it's time to SHUT UP AND RUN!
We love this book, its fun, informative and really does just makes you want to get out and run. To read more about Robin Arzon and her story, click here.
Purchase Now
To purchase your copy of this  fun and informative book, we encourage you to click here