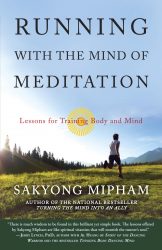 MIND |
Sakyong Mipham is the head of the Shambhala lineage, which his grounded in the power of creating enlightened society in everyday life. With a unique blend of Eastern and Western perspectives, he teaches this way of social transformation through the world.
As a Tibetan Lama and leader of Shambhala, Sakyong Mipham has found physical activity to be essential for spiritual well-being. Running with the mind of meditation incorporates his spiritual practice with his love of running.
A mindful book that teaches us the lessons for training body and mind.
To read more about the author visit: Sakyong
Purchase Now
To purchase your copy of this enlightened book, we encourage you to click here