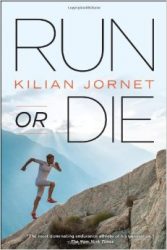 BODY |
"What is the right balance between the desire to drive yourself farther and feel you are who you are, and pleasing others but in doing so, lose part of yourself?" – Kilian Jornet
When you read a book in less than 3 days it has to be good. Kilian Jornet is a world champion ultra runner and ski mountaineer from Catalonia, Spain raised in the shadows of the Spanish Pyrenees. By the age of 5 he had completed the ascent of Aneto, the Pyrenees' highest peak so with a background such as this, adventure was always going to be part of his DNA.
Part human, part mountain goat Kilian's accomplishments are as overwhelming as they are impressive. A person who finds comfort in the mountains as opposed to flat terrain his ability to push beyond what we think possible is admirable and infectious.
"….I can no longer remember what my heart feels when it pounds so energetically and accelerates, brining a taste of blood to my mouth or how my breathing cuts out when it can't bring more oxygen to muscles that are clamouring for it. I can't even remember what speed is, and I miss it. I feel slow and heavy."
I rare insight to the mind of a runner who is always trying to find the right balance between running both for yourself and others.
To read more about Run or Die and the athlete that is Kilian Jornet, visit www.kilianjornet.cat/en/
Purchase Now
To purchase your copy of this fast read, we encourage you to click here