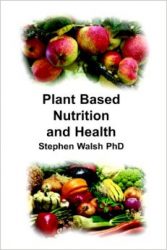 FOOD |
As the back of the book states 'This book gives clear advice based on sound science, cutting through confusing messages promoted by vested interests'.
It can be confusing at times knowing if you are eating right and nourishing yourself with adequate vitamins and minerals, this is the perfect book to help clear that haze. Stephen Walsh gives you clear information and facts and answers questions such as 'Where should we get our omega-3 fatty acids?' and 'Which foods help us to achieve and maintain an ideal weight'.
This book is like our bible, its a great reference book and a must for any new vegan/vegetarian household.