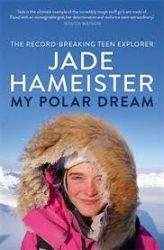 BODY |
The book, My Polar Dream by Jade Hameister was sent to me by my parents who had seen Andrew Denton interview Jade on this show the "Interview" mid 2019. I had just completed the Brisbane Trail Ultra and shared my blog with my parents; for some reason the words in my blog resonated with them and reminded them of the stories in which Jade shared with Andrew.
I knew very little about Jade other than she was a 14-year old trekker who became the youngest person in history to ski to the North Pole however after reading this book, I now know Jade as a determined, extremely resilient and honest fighter who saw the light from darkness and believed anything was possible.
I was captivated by every word in the book and finished the pages in record time. The journey itself was foreign to me however the fight flight response was not. Carrying out an endurance adventure takes a certain type of character, its takes someone who is willing to push the boundaries and sit outside of their comfort zone majority of the time. It takes someone who can wake up everyday and see it as a new day, focus on both the now and what is ahead of them as well as recognising what happened yesterday.
Jade is a fighter, an inspiration and the perfect role model for the younger generation of girls who need to be inspired and to live within and beyond their ImagiNATION.
To read more about Jade Hameister and her dream to complete (& successfully at that) the Polar Hat Trick click here.
Purchase Now
To purchase your copy of this  inspirational and captivating read, we encourage you to click here