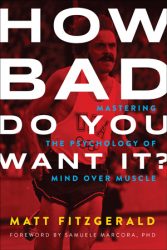 MIND |
"The greatest athletic performances take place in the mind, not the body."
I believe this to be true after one of the hardest 100km races I have ever done, The Surf Coast Century 2016.  After suffering an injury 2 months out from the start of the race, I had little to no training leading up to the start line with some days barely being able to walk. Come race day, I had the mentality of 'brace yourself' – accept the pain or succumb to it. I chose to accept it. I finished this race with a 15min PB and 2nd on the podium in my age group. These results were not achieved by physical fitness alone but mental strength too. This race was completed by the mind not the body.
How bad do you want it? shares with the reader epic moments in endurance sports exploring how athletes overcome physical limitations with mental might and shows us that anyone can cultivate the mental strength to surmount challenges – both in sport and in life.
A truly epic read and a must for anyone who trusts the mind enough to overcome physical limitations.
Matt Fitzgerald is a journalist, coach, sport nutritionist and author of more than 20 books.  To read more about Matt click here.
Purchase Now
To purchase your copy of this book that you saying to yourself  more often than not 'how back do you want it', we encourage you to click here