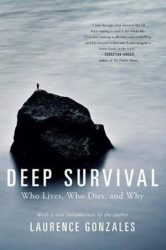 MIND|
Do you have what it takes to survive a situation that is less than favourable? What would you do if your boat was caught in a hurricane and you were adrift on a lift raft for over 30+days all the while being surrounded by sharks? Or caught in a tower block fire not knowing whether to follow the advice of the fire marshal or listen to your gut instinct?
Deep Survival is a story which illuminates the mysteries of survival, whether in the wilderness or in a meeting room describing the art and science of survival.
This book makes you think, it makes you question your rational or irrational mind and has you wondering if you will be the one in the group that yells 'we are all going to fucking die'.
An absolute must for anyone and for those who ask 'who lives, who dies, and why? To purchase your must have survival book, visit Booktopia