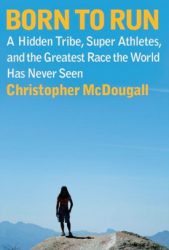 BODY |
We are all Born to Run but it is only some of us who channel our inner runner and have them hitting the pavement most nights of the week.  This book opened our eyes and our minds to the breed of runners called ultra-runners and enlightened us further to the history of the Tarahumara Indians. Through reading more about their tribe and their ability to run hundreds of kilometres without rest and bare foot we too felt inspired to run without shoes, although its obvious our history of feeling the earth through padding has taken its toll and this is going to take some getting use too!
Inspirational seems to be a word we use the most when referring to any book relating to running and this book is no exception.  We have recommended this book to anyone who has an interest in running, an interest in history and a interest in understanding how we can push our bodies to the limit and still come out the other side smiling (if not a little battered and bruised in the process).
As the back of the book states, Born to Run will engage your mind and inspire your body – when you realise that the secret to happiness is right at your feet, and that all of us were born to run.
To learn more about the author Christopher McDougall and Born to Run visit www.chrismcdougall.com