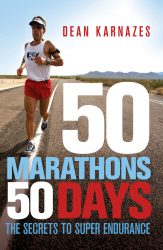 BODY |
50 Marathons 50 days – the ultimate test of endurance.
That's 2092 kilometres
And 5 pairs of shoes
18 pairs of socks
3 lost toenails
This book is an honest account of what's its like to push the limits of strength and motivation with hints on how to adapt to extreme conditions, prevent muscle cramps and overheating, pace yourself when you 'hit the wall' and recover after each day's marathons.  Its a book of inspiration for anyone looking to go further than ever before to achieve their personal goals.
To read more about this journey and Dean Karnazes click here.
Purchase Now
To purchase your copy of this 'yeah I think I could do that' read, we encourage you to click here